In the world of quick weaves, sew ins and extensions, natural hair is trying to find a way a lane around all the fakeness. In recent years more hair care manufactures, including Carol's Daughter and Pantene, have targeted women of color and provided shampoos, conditioner and oil for natural hair.  Don't get me wrong, hair weaves are still the dominate hair trend among women of color but with new hair products and different styles, staying natural gives you more opportunity to do more with your hair. And if you are like me- new to the natural state- you may be unsure on what to do and how to do it. Courtesy of Madame Noir we have compile 15 natural hairstyles that only takes minutes but looks like it took you hours.
TWIST OUT
Wash and deep condition your hair. Part hair into sections. Take two strands and twist one strand around the other from scalp to ends. Let air dry or spend some time under the hair dryer, and then undo the strands. Prepare to be amazed at the lush world of curls this style will produce.
BANTU KNOTS
After two-strand twisting your hair, wind each twisted lock of hair around itself, forming a small knot. Secure
 with a hairpin or two. Wear this style for a while, then undo and sport curly twists. Next, you can undo that style for a curly twist out. You can't go wrong with this three-style in one look.
CORN ROWS
Channel your inner Cleo from the movie Set It Off with this style.  Weave hair close to the scalp to achieve
 this whirlwind, braided look.
FLAT TWISTS
Parting hair from hairline to the nape of your neck or in the middle, section hair off using two strands and twist hair close to scalp down to the ends.
FRO' MAGNUM
Pick your hair out with a hair pick, lift or big, wide toothed comb, and shape it into a glorious round afro. Angela Davis would be so proud!
FRO' HAWK
After a wash and condition, use a tangle teaser to brush your hair up on one side and secure with bobby pins and/or hair pins. Repeat on the other side. Or you can braid up into a mohawk and rollerset the ends
SPIRAL CURLS
Stretch the hair by blow drying, and use the flat iron to create these loose, yet springy curls.
                                                      AFRO PUFF PONYTAIL
Pull your hair up in a huge afro puffy puff, securing it with a hair tie. Don a colorful headband, paired with a unique pair of earrings and voila!
WASH AND GO
Say what? That's right! Wash your hair, spray on your favorite leave-in conditioner. Use a diffuser or air dry.
COIFFED FRENCH BRAID
French braid your tresses starting at the nape of your neck and move to the crown of your head. Roll the hair at the top with rods to complete the look. You can also part hair, and French braid hair along the hairline for an ultra sophisticated look.
HAIR BUN
Pull your tresses up to the top of your hair, and secure
 with a hair tie. Using an old, rolled up sock, pull ponytail through the hole and cover sock with hair, for that perfect, round hair bun.
BRAID OUT
Use your favorite moisturizing product like extra virgin coconut oil, braid and cover. Undo the next morning for soft, waves to tight curls depending on
 the size of the braid.
FLEXI RODS
For lush curls, strategically wrap strands around the flexi rods. Air dry overnight (please not it's uncomfy to try and catch some zzzz's with these things going every which way on your scalp) or sit under the dryer for a couple hours
STRAIGHT TRESSES
Yes, you can achieve
 that straight look with a natural. Wash and condition your hair. Next, blow dry your hair, making sure to get it dry. Finally, use a flat iron with 100% ceramic plates to achieve a straight style.   Grecian Updo Flat twist hair along the sides near hairline, leaving crown of your hair loose
SLEEK CHIGNON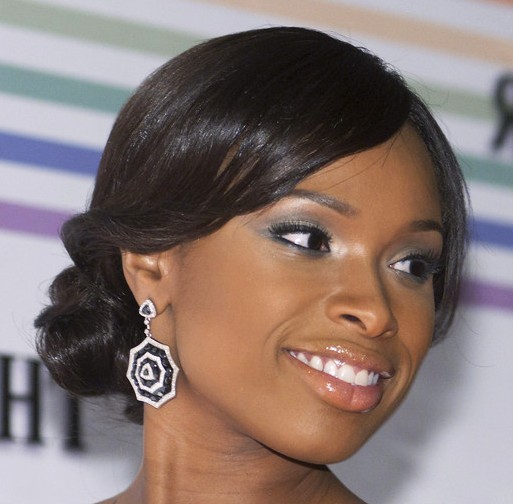 Use your favorite hair oil and brush your hair back into a chignon. Adorn the bun with a flower for extra, funky hair flair.